Our Story
Two Bros Bows is a kid-owned company designing and distributing high quality toy bow and arrow sets for children ages 6 and up. Kids can choose matching bow and arrows or mix and match bow, arrow and quiver bag designs for a custom, one-of-a-kind look. Two Bros Bows archery sets are the kid-tested, mom-approved solution to bringing the spirit of adventure with you anywhere you go.
Where It All Began
Living in their 800 square foot apartment in Davidson, NC, brothers Duncan (10) & Hayden (7) decided to come up with a way to make some extra spending money. Loving the outdoors and gaining inspiration from the movie "Brave," the boys (under the entrepreneurial creative guidance of mom, Elisha) took out a $50 loan from her. They came up with the idea to create and develop a durable, kid-friendly, nostalgic bow and arrow set. They went to their local craft fair, selling 15 out of the 18 originally made. Using the profits, both boys decided to reinvest into making more bow and arrow sets. It was during this time that they got their first retail gift shop to sell their product in, catching the eye of a sales representative who wanted to carry their product!

Four short years later, Two Bros Bows is a million dollar business, with over 1200+ specialty stores carrying our product world-wide. Duncan & Hayden have won numerous awards in the toy industry, helping them to continue to develop their skills as kid-trepreneurs. Now that they're older, Duncan and Hayden assist their mom with marketing, creative design and promotional social media opportunities, as well as guest appearances at different shows the company attends.
Two Bros Bows Today
Today Two Bros Bows continue to be made in the USA. The company continues to operate out of North Carolina, but on a bigger scale. With more than five full-time employees and two manufacturers on their side, they've honed in on making the best toy bow and arrow sets available. Two Bros sets make a great beginner set for young children interested in archery and make a great addition to playtime. Kids arrows are designed with CPSIA safety tested fabric covered foam tips for safe play alone and around others. From the beginning, Two Bros Bows has been dedicated to delivering fun, stylish and durable products kids everywhere will love.
Where to Buy Two Bros Bows Archery Sets
What was once a specialty children's item for purchase in store only is now available online for direct purchase. Now, kids everywhere can pick archery sets in their favorite styles and designs all from the comfort of home.
Shop Now
Store Locator
Where to Buy Two Bros Bows Archery Sets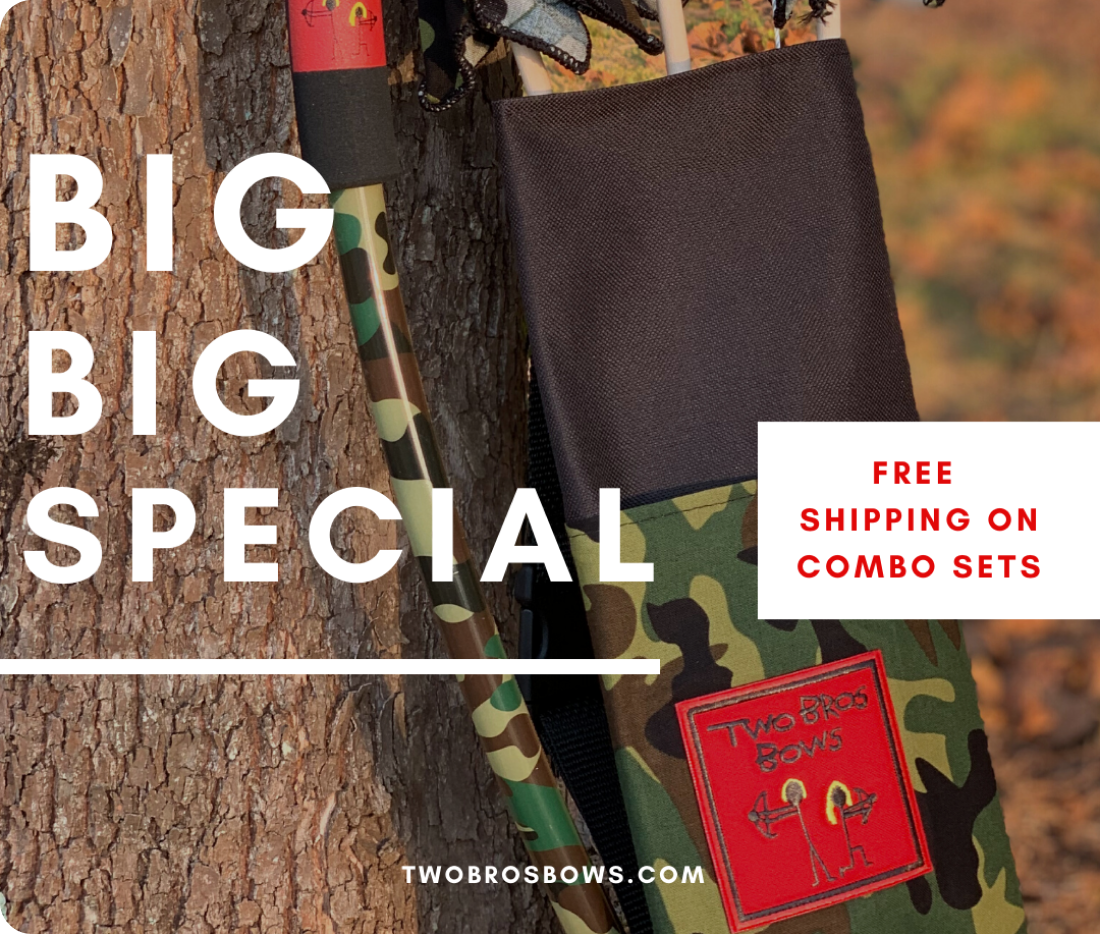 Foam-Tipped Arrows For Kids
Stock the shelves with adventure when you take advantage of Two Bros Bows wholesale purchase options. Wholesale purchasers can order bows, arrows and quiver bags separately or create-your-own box sets for custom options.
Work hard. Play hard.
It has always been the family's motto, and has been an extremely rewarding process for the boys. Duncan & Hayden are excited that children across the world are rediscovering their own adventurous spirits, heading out to explore nature, all while having fun with the bow and arrows they created. Subscribe to our newsletter and stay in the loop on all new products and special offers.